This concert has been postponed.
Please subscribe below to receive concert updates.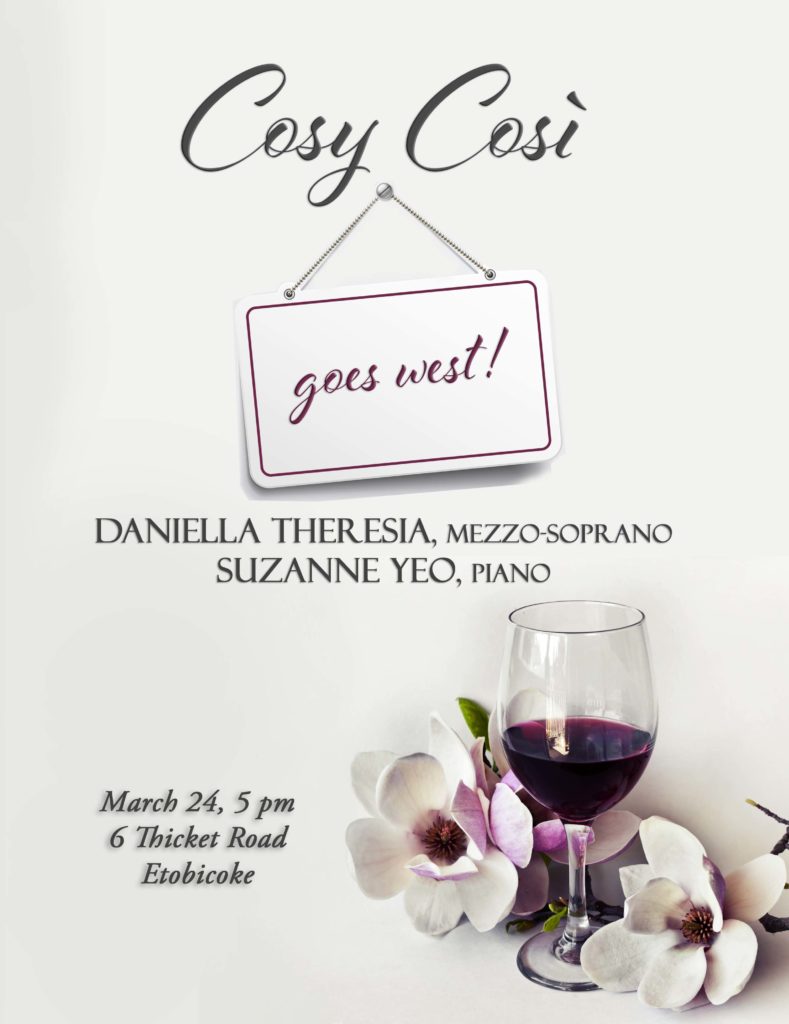 "Cosy Così Goes West!" combines contemporary works with treasured classics, including works by Lori Laitman, Kurt Weill, Gershwin, Robert Schumann, Debussy, Schoenberg, and more. This delightful program is designed to soothe the soul and welcome Spring into our hearts.

About the Artists
Daniella Theresia, mezzo-soprano

Suzanne Yeo, pianist
Daniella Theresia is a classically-trained mezzo-soprano with international reach. She completed a Bachelor of Arts degree in Music (Voice) and Geology at Lawrence University in Appleton, Wisconsin in 2008. Her pursuit of excellent musical training has taken her to programs and festivals in Canada, the United States, Germany, Italy, and The Netherlands. In 2013, she emigrated to Israel in order to study with internationally renowned pedagogue Professor Tamar Rachum-Roth in Tel Aviv.

An avid lover of art song, Daniella's concert and subsequent recording "Alma Mahler in the Mediterranean" features works inspired by the Mediterranean region. In 2016, Daniella participated in the international Robert Schumann competition, for which she prepared an hour's recital of Lieder written by Schumann and other celebrated composers like Brahms, Mahler, Clara Schumann, and Wolf. Shortly thereafter, Daniella relocated to Toronto in order to pursue her goal of living through singing. She recently made her mainstage operatic debut as Marcellina in Toronto City Opera's 2018 production of Le nozze di Figaro.
Suzanne Yeo has performed in North America, Europe and Asia, to much praise for the intensity and sensitivity of her interpretations. After a stint as a doctoral candidate in the German department at Princeton University, she returned to music in 2011. Since then, she has regularly appeared both as a soloist and as a collaborative pianist particularly noted for her affinity for the operatic repertoire and Lieder. She was also the assistant conductor at the University of Toronto-affiliated Hart House Chorus from 2015-2017.

Suzanne is a Licentiate and Fellow of the Trinity College of Music London (LTCL, FTCL) and obtained her M.Mus. in piano performance from the University of Toronto, where she also participated in masterclasses with artists such as John Perry, Jamie Parker and Francine Kay. She has also participated in various collaborative piano workshops with Emily Hamper and Steven Philcox, and made her public début as an orchestral conductor in Jan Harrington's choral/orchestral conducting masterclass at the Princeton Festival.
Cosy Così Goes West will be Daniella and Suzanne's fourth collaboration. Past concerts include "The Eternal Feminine (Part Two)" and its subsequent CD release. "The Eternal Feminine" follows the lives, loves, dreams, and creativity of women through their words and music, including works by Debussy, Lori Laitman, Poldowski, Robert Schumann, and Sara Teasdale.