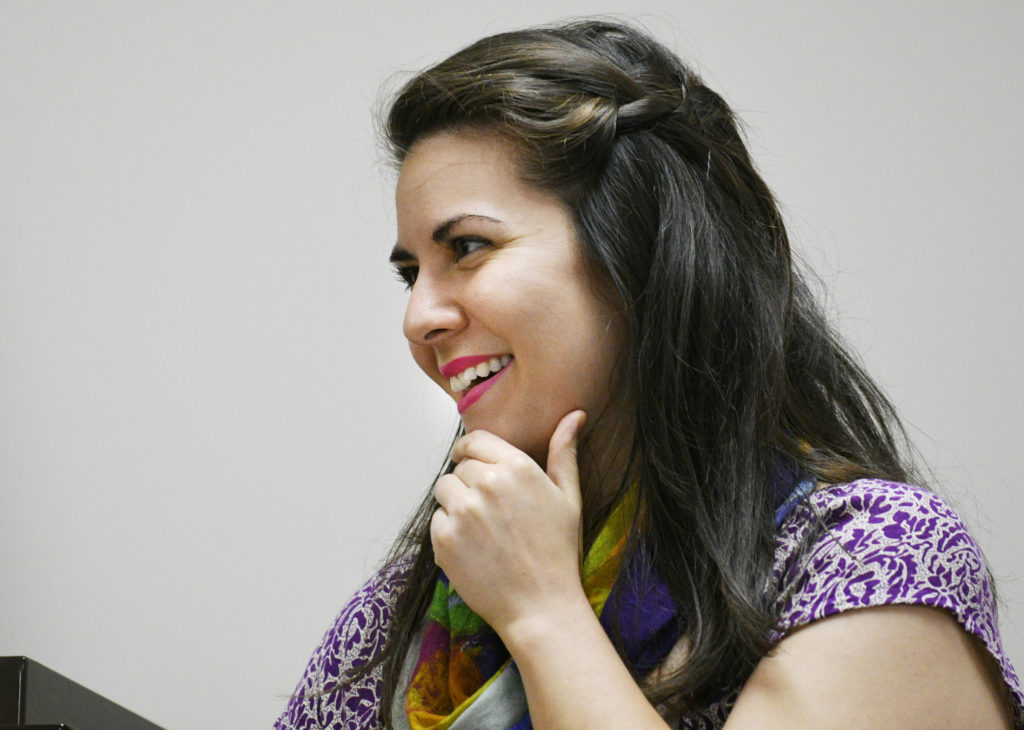 Daniella Theresia Teodoro-Dier is a classically trained mezzo-soprano who strives to bring truth, love, and beauty to the world. ​

Daniella completed her formal training in 2009 at Lawrence University (Appleton, Wisconsin), where she received a Bachelor of Arts degree in music (voice) and geology. Daniella had every intention of pursuing a career in geology until her final year of university, when she spent a term studying at the Conservatorium van Amsterdam in The Netherlands. While in Amsterdam, Daniella realized that her life would not be complete without singing, leading her to seek further training at vocal programs in North America and Europe.

In 2013, Daniella emigrated to Israel in order to study privately with Professor Tamar Rachum-Roth (Head of Vocal Studies at the Buchmann-Mehta School of Music, Tel Aviv University). Through her study of classic Lieder and art song with Professor Rachum, she discovered the joys and challenges of creating authentic musical expression. This intensive study culminated in 2016, when Daniella participated in the International Robert Schumann Competition (Zwickau, Germany), for which she prepared an hour's-recital of Lieder by Schumann and his contemporaries. This competition proved pivotal in Daniella's decision to pursue a musical career wholeheartedly.

Shortly thereafter, Daniella moved to Toronto and has since performed in productions with Toronto City Opera (Le nozze di Figaro (Marcellina), 2018), Toronto Masque Theatre (Dido and Aeneas/Aeneas & Dido (Chorus), 2017), Opera by Request (Rodelinda (Unulfo); Idomeneo (Idamante), 2017), and Opera for All (various concerts, 2017-2019). From 2018-2020, Daniella served as the Alto II in the Toronto Oratory Choir at Holy Family Roman Catholic Church.

Daniella continues to nurture her love of art song and enjoys bringing unfamiliar repertoire to new audiences. Her debut recording "Alma Mahler in the Mediterranean" (2015) features works inspired by and from the Mediterranean. Daniella's current concert series "The Eternal Feminine" explores women's dreams, lives, and creativity through their words and music. Featuring noted creators like Debussy, Sara Teasdale, Lori Laitman, John Duke, Alma Mahler-Werfel, and Ricky Ian Gordon, "The Eternal Feminine" is now in its second iteration and is available in a limited edition CD. Daniella recently launched The Art Song Podcast with Suzanne Yeo (pianist); their inaugural series (The Eternal Feminine Podcast Series) explores the lives and creations of women composers and poets.

Daniella currently holds lead positions at St John's United Church in Oakville, Beth Sholom Synagogue in Toronto, and the Etobicoke Centennial Choir. She also sings in a variety of solo concerts and events throughout the GTA with frequent collaborators Suzanne Yeo and Linda Lonseth (pianist). Daniella has recently opened her own private Teaching Studio, offering voice, piano, violin, and flute lessons to all levels and ages.

Daniella lives in Oakville, Ontario with her husband and fellow musician David Finneran and their cat.


Updated September 2020.