How are you?

I'm doing well, despite the strange turn of events life has taken.

We watched in amazement this past month as lessons, rehearsals, concerts, and religious services were canceled or postponed as organizations rushed to enforce the ever-increasing provincial restrictions on gatherings. We're so grateful that our choir and church colleagues were able to pay us for rehearsals and services in March even though we weren't able to meet.

Ironically, since our normal church services have been suspended, my husband and I have been able to lend our voices to live-streaming Sunday morning services at our local church, St John's United in Oakville. I welcome the opportunity to use my gifts to uplift others during this stressful time and I can't deny that even seeing a few friendly faces once a week makes a huge difference in this time of forced solitude. There are already videos on St John's facebook page from the past two Sundays and hopefully we will continue to stream live every Sunday morning at 10:30 EST until we can resume our normal services at Holy Family.

In the meantime, Dave and I have been making the most of our "stay-cation"; we've already completed one 1000-piece puzzle with another on its way, we are eating like kings since we have no time restrictions on meal planning or preparation, and our cat is thrilled to have us at her beck and call 'round the clock for treats and brushing sessions. Despite the financial ramifications, it is actually really nice to be able to fully rest and recharge in the company of those you love. As you can imagine, all teaching plans have been put on hold, although I am still offering lessons online via Zoom.

In an effort to provide some joy and hope, I have created an mp3 album from past concerts available for download from my website shop. I hope that these pieces will bring you a sense of calm and connection as you listen to them. If you're looking for sacred music, I invite you to peruse Holy Family's YouTube channel, where you can listen to recordings of masses, motets, and other sacred works from the past few years. In this Magnificat by Stadlmayr, you can hear me singing the opening intonation and Alto part (Dave is singing Tenor).

Well, what more can I say but that I hope you are well in body, mind, and spirit. I look forward to brighter days ahead and thank you, as always, for your continued love and support.

Wishing you a better April,

Daniella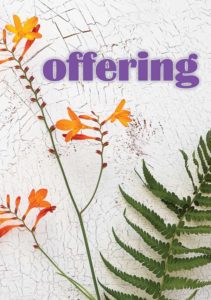 Canceled: "Offering"
I'm sad to announce that the Etobicoke Centennial Choir's concert "Offering" (previously postponed to June 2020) has now been canceled.

Please contact ECC directly for more information on refunds or donations.

I look forward to re-joining with my choral colleagues in the fall.